What to expect when You're Expecting a new website
Just as every business has its own unique challenges and opportunities, so does every website. Solving these problems can sometimes lead to a frustrating and difficult experience when developing a new website. What happens when you need the website done quickly? What if the concept doesn't look like you imagined? What if it doesn't function as you expected? A failure to plan for these circumstances is a sure fire path to disappointment.
Fortunately, with the right processes in place, these issues and others can be avoided. The right web design process will lay the foundation to work efficiently and effectively together. A collaborative process will provide you with opportunities to review the work at key stages of design and development and provide timely and effective feedback.
Here are the key stages of our web design process.
Kick-Off Meeting
At the start of the project, we'll schedule an initial kick-off meeting, which is typically 1–2 hours long. We find this helps create momentum and ensures everyone has correct expectations for the project. More specifically, we will:
Introduce you to the other members of our team, including our project manager, creative team, and developers.
Review and summarize the key strategic and visual requirements for the project, including the brand and visual identity, content strategy, messaging, and brand voice.
Review the scope of work, roles, timeline, and expectations for the project.
Identify and collect any necessary information to complete the project (e.g. login credentials or an export of the content on your current website, and existing photography).
These sessions are most productive if you come prepared with initial thoughts about your objectives, audience, competitors, and your brand personality. That leads to a more engaging discussion, less awkward silences, and starts the project off right.
Discovery
Following the kick-off meeting, our team will dive deeper into the project, researching each of your objectives, brainstorming new ideas, and summarizing our thoughts into a comprehensive creative and technical brief.
Together these briefs make up our Website Development Plan. This defines things like objectives, audience, aesthetic and technical functionality. We'll also take a deeper dive into your competition and look for opportunities to make sure the website to be clearly differentiated.
The plan is a playbook for every member of our team and guides decision making throughout the rest of our process. It contains key findings and ensures that your approach aligns with each of your objectives.
Once the Website Development Plan is received and signed off on, we begin!
Architecture
The architecture phase come next. Here, it's all about prepping what content will live on the site and how it all fits together. We'll create a sitemap and content outline to showcase the navigation, page hierarchy, and what content you can expect to find on each of those pages.
This can be straightforward for simpler sites, but can get more complex when there is a wide range of products or services. Here, we'll create categories (taxonomies) of information that make it easy for users to find what is most relevant to them. 
The key thing here is making sure things are intuitively organized from the start. We go over the sitemap together to make sure we're all on the same page before moving on to the next step.
Copywriting
We'll then get started on copywriting and curating all remaining website copy (including microcopy, call-to-actions, button text, and headings) based on the site map provided in the Preparation Phase.
To write your content, we'll need to get some information from you. We'll put together an outline that maps out the content for key pages and ask any questions needed to fill in the gaps. Once we have the answers, it's off to the races and our content team will start writing with your brand voice in mind.
Copywriting is done in one aligned effort to ensure consistency between the strategy and structure of the website from start to finish. It also ensures strong calls-to-action that resonate. Lastly, it allows our keyword research and search engine optimization strategy to remain consistent throughout your content.
You'll have the opportunity to review the content before moving on and we'll incorporate your feedback into the final project.
UX/UI Design
Once your logo is approved, we'll start designing key pages of the website. This typically includes the homepage and one interior page. The design style of these pages creates the foundation for the site. Layouts, typography styles, button styles, and more from the initial design will be used throughout the rest of the site.
This prototype is used to model the complete user journey and demonstrate various navigations and interactions. The result is a development-ready design and a clear understanding of exactly how your website will look, feel, and function.
Development
The approval of the content and design marks the completion of the UX/UI design process and the start of development.
At this point, you will have had a chance to review the complete design (look, feel, and function) and content for the website. Our developers then code the actual website on a password protected development server so as not to interfere with your current website.
This is generally where the majority of time goes on websites so don't be surprised you haven't heard from us in a little while, we've got our heads down drinking coffee and crushing code.
Changes

 

Alterations

 Revisions

Revisions happen. In fact, it's pretty rare for a project to have zero revisions. We've budgeted a reasonable amount of hours for revisions for this project. However, things can get a little tricky when revisions are treated like an all-you-can-eat buffet. 

Here's how you can make the most of your revisions: 
Make sure all key decision makers on your team have had a chance to review the work before you provide feedback. 
Provide all revision requests at once, in one concise document or email. 
Give feedback at the right time in the process. Content changes that come in late take more time to re-design, and design changes that come in late take more time to develop.
Quality Assurance
The final stage of our development process is quality assurance, where members of our team carefully review the website, testing across a wide variety of browsers and devices.
Our quality assurance process follows a comprehensive pre-launch checklist, which includes:
Using a combination of real devices and software testing tools such as BrowserStackto confirm the website displays properly across a wide variety of browsers and devices.
Proofreading all content throughout the website, community, and information pages.
Checking custom functionality (e.g. contact forms and search tools) and tracking code to make sure they are all properly implemented.
As with previous phases, you'll have the opportunity to review the development website prior to launch and we'll incorporate your feedback into the website prior to final delivery.
Launch & Orientation
The outcome of the quality assurance process is a complete, ready-to-launch website.
If we're hosting the website, we'll help configure your domain name and the necessary accounts. If you're hosting the website, we can assist your team in launching the website or provide an archive of the website and database.
We'll also schedule an orientation and training session (1 – 2 hours) to familiarize you and your team with the website, which includes:
Providing in-person training on how to login, navigate the dashboard, manage users, add and update products, and manage content throughout the website.
Providing a USB flash drive containing a complete backup of the website and database along with copies of any licenses used in development.
Providing a backup via email to have a digital copy on file.
Support & Guarantee
We stand behind our work and are confident that our team can deliver a website that will meet and exceed your expectations, now and in the future.
Quality Guarantee — We guarantee that the website will be forward-compatible with software updates, and be free from deficiencies and software bugs for a period of one year following the completion of the website.
Cost Guarantee — There are no hidden fees and no surprises. What we quote is what you pay. If the scope changes during the project, we'll provide an updated quote prior to any changes.
Technical Support — Things change, new ideas come up, and people come and go. Our team is available to help clients with search engine optimization, maintenance services, new product launches, new employee training, and any other digital marketing work you may need.
Why we stick to our process.
It's easy to get lost in the excitement of a new website. Our process allows everyone to stay on track to meet deadlines and budget requirements. We've spent a lot of time growing and perfecting our process to ensure that our clients are involved and heard throughout the entire project. 
We believe that having the right process moves an agency from average to outstanding. When you work with us, you'll see this for yourself.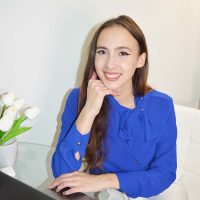 Anastasiya Gry. – Founder & Lead Designer at AG Global Designs 
Anastasiya Gry has over 6 years of design experience in a variety of fields. In the disciplines of new media and design, he graduated from the Southern Alberta Institute of Technology.
She acquired the finest methods to adopt into designing brand identities and websites that deliver results to clients during her years of experience.