How Much does a website cost?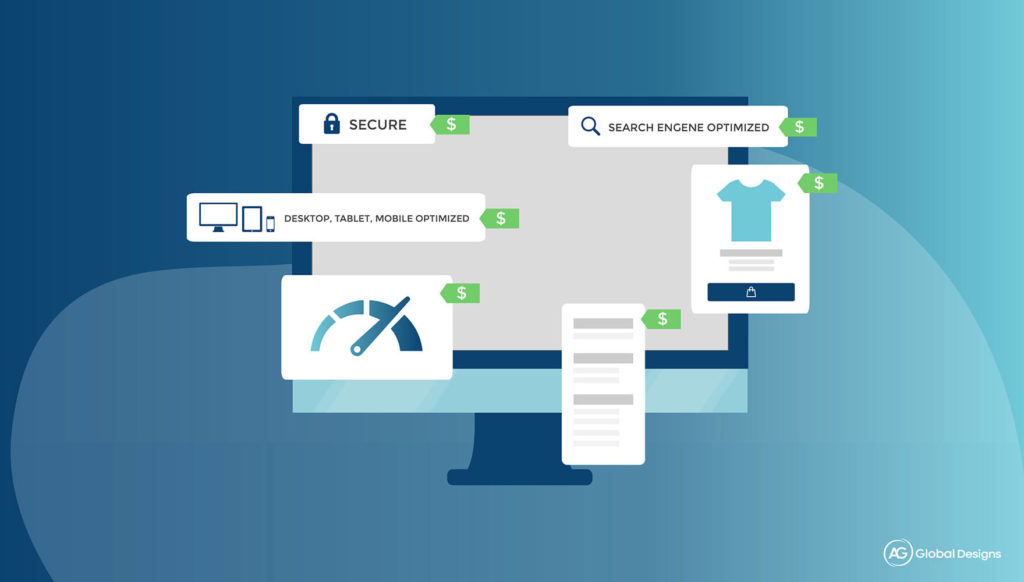 We are frequently asked this question, but pricing a website is not as simple as it may appear. A website is an asset, but not in the same way that a car, desk, or computer are. It is also a marketing tool, but not in the same way that a business card, billboard, or radio campaign are. There is no rate card for developing a custom website because no single solution is appropriate for every business. That is how it should be.
Don't let that frighten you. A great website does not have to cost a fortune. Purchasing a website is an investment in your company. The cost of the website, like any other investment, should be in line with your expectations. What that looks like will be specific to your company. The cost of development is affected by a variety of factors. As an example:
What platform is it built on (e.g. WordPress, Wix, Squarespace)?
Is it free (e.g. WordPress) or is there a subscription or licensing fee (e.g. Shopify)?
Will it require a lot of custom development to get started (e.g. Drupal)?
Are you working with a freelancer or an agency (e.g. Twirling Umbrellas)?
What do you need (e.g. Design, Copywriting, Development, Hosting)?
In this post, we're going to break everything down for you. We'll start by discussing common fixed fees, then cover budgeting, web design agency services, custom versus aftermarket themes, and ultimately, what you should plan to pay for a new website. 
---
First, fixed website fees that you'll need to consider. 
Let's start with the fixed costs associated with a website. Owning and operating a website comes with a number of them, usually paid on a monthly or annual basis. 
Domain Names
A domain name is your website's address on the internet. It's what customers type into a browser to access your website. Domain names are registered through a domain name registrar (e.g. Google Domains, GoDaddy).
If you don't currently have a domain name for your business, you'll have to register one. This means you get the rights to use that name for your website. You can purchase domain names for 1 year, 2 years, 5 years or 10 years.
Once you purchase a domain, you will be required to renew it every year. The cost for a domain name with us will normally be around $40 a year, depending on the extension, registrar, and length of registration. 
Website Hosting
Next up is website hosting. This monthly or annual fee is for hosting your website's files and making them available to the internet. No, you cannot run your website from your own computer. Although technically possible, it's unlikely to provide the speed and reliability you need.
There are many different web hosting options available and picking the right one for your company depends on how many resources you need. Resources are things like disk space, bandwidth, processing power, and computer memory. Your web developer can recommend the right hosting plan for your website.
Nowadays, the hosting you choose should be configured specifically for the platform you've chosen. For example, we offer managed hosting solutions specifically for WordPress starting from $35 / month and there are other common providers such as WPEngine and GoDaddy.
Hosting is often treated like a traditional expense, something to be minimized if at all possible. This is unfortunate, as quality hosting can have a dramatic impact on the performance of your website. Small increases in resources and speed can lead to additional leads and sales. 
SSL Certificate 
Your website will need a secure socket layer (SSL) certificate. It encrypts sensitive data like credit card numbers and personal information between the visitor's browser and your server. 
Customers often look for the small green padlock next to the URL to assure them that it is safe to provide personal information to a website. More importantly, most browsers now display a warning when visiting an insecure website and an SSL certificate is a major search engine ranking factor. 
Fortunately, SSL certificates are often included for free with a quality hosting service. Quality hosting providers will automatically install, configure, and renew your certificate.
If your hosting doesn't include SSL certificates or you need a special type of certificate, they can range from $100 to over $1,000 per year. These can be purchased directly from an encryption company such as DigiCert and VeriSign and installed on your server.
How to set a budget for a new website.
First things first, you need to decide on your goals and expectations for your website. We love to say that "you don't need a website…you need a digital marketing tool." Building your budget around realistic goals will ensure you commit enough to accomplish the goals. At the same time, setting a clear goal will help you avoid spending too much on unnecessary features.
If you're not convinced it matters, let me assure you, you can generate new business online and there are a million studies and examples to prove this. Our agency wouldn't be here today if this wasn't true as many of our first leads came from online sources. Whether it's generating new leads for your services, selling your products online, or helping to convert your existing referrals into paying customers, your website can, should, and will be a mission critical part of your business.
Websites for Brand Awareness
If you're looking to bring new people to your website and convert them into customers, you're going to need a clean, modern website with compelling, search engine-friendly content. If your goal is simply to share information and your products and services, a smaller website may be right for you. In either case, visitors will form an impression about your brand, products and services, and customer service by what they see online. Make it count. 
Lead Generation
Perhaps you're looking to generate new leads? A properly designed website can be a great source of new leads as everyone, and I mean everyone, uses the web to research companies. Even if you get most of your business through referral, your customers will visit your website to learn about you and your services and build a sense of trust before they call.
Also, if you're looking to generate leads, how much are those leads worth? $20k may seem like a lot to spend on a website, but if you're hoping to generate $200k a year in new business, it's a reasonable expense. Make no mistake about it, you get what you pay for online.
Lastly, you should ask yourself how long will the website last? $10k may seem like a lot for a small business to invest in a website for one year, but if it will serve your business for five years (which is a common lifespan), that's only $166 / month. That may be a comparably small expense if you're hoping to book a few thousand dollars in new business from the website each month and even more reasonable if your leads are likely to become repeat customers.
Ecommerce
If you're looking to sell online, you can expect to pay more because of all the extra setup, integrations, and considerations required to receive payments and ship products. Start by asking yourself how much you plan to sell. While the sky's the limit online, not every ecommerce website will become the next Amazon. Realistic sales goals will help you determine a realistic budget for achieving them.
If you're hoping to sell $50k a month on the website, perhaps 10% or $5k a month may be a reasonable investment. $30k over the course of a year may seem like a large investment, but it could be entirely reasonable compared to the cost of adding an additional sales person.
Working with an agency.
Working with an agency will be more expensive than working with a freelancer, but offers many advantages and a better overall likelihood of success. Many agencies work as an extension of your own marketing team, giving you access to:
A project manager to ensure your website timeline stays on track
A designer who will design your website with user experience in mind
A content strategist who will write compelling copy for your website
A marketer who will ensure that your website is optimized for SEO
A developer who will custom build your website to be unique, just like your company
Agencies also live and die by their portfolio. Do all the websites in their portfolio feel uniquely suited to each client's brand or does everything in the portfolio feel the same? The former is a good sign they will take the time to learn about your business and goals, while the later may demonstrate a mass production approach to websites.
Also, plan to invest in marketing your website once it's live. Kevin Costner's famous line "If you build it, they will come" just doesn't apply to websites anymore. You'll want to consider search engine optimization, online advertising, and social media or some combination of those. You'll also want to consider ways to promote your website offline as well.
Why we don't use aftermarket themes.
Technically speaking, all websites built using WordPress, use a theme. However, there's a big difference between a theme that was designed specifically for your business and a theme that was designed for all businesses ("an aftermarket theme").
We build custom websites. To us, this means that we design and develop your theme specifically for your brand and business goals.
In our opinion, most aftermarket themes are akin to a swiss army knife when what you really need is a scalpel. Like a swiss army knife, they're harder to work with as unnecessary features get in the way. They almost always have complicated page builders that allow designers to drag and drop images and text to make it fit your brand, which is not something clients want to worry about. They're often slower, with a ton of extra code for features you don't want or need. They're also less secure as hundreds or thousands of other websites run exactly the same code making them bigger targets for bots and hackers. 
Beware of the terms "custom" as well. We use the term to describe a website theme that's built, from scratch, for our client's needs. Many developers use the term to describe a website that's been "customized" from an aftermarket theme.
Your website will not match any other sites on the internet. Your business is uniquely you. Your website should be too. 
Through our experience, spending more on a custom built website dramatically increases the return on it. More than 63% of shopping occasions begin online. When someone is searching for something, they head to Google. If your website looks like it's from the early 2000s, people will click off of it right away. If your website is beautifully designed with the user in mind, they will be more likely to spend time on the site ending with making a purchase. 
This goes for being found online as well. 
In order to be found through search engines, your website needs to demonstrate authority and trust. Google's robots crawl the internet constantly, which means they will eventually come across your website. You're able to speed up that process with a custom-built website. 
At Twirling, we ensure that every page on your website includes SEO-optimized meta descriptions and title tags. We also submit every website we build to Google via the Google Search Console. This allows Google to know what your website is about, how fresh your content is and the relevancy of your website.
Google ranks well designed, new websites better than websites that haven't been updated in 5 years. 
Be Aware of Hidden Costs
There can be hidden costs associated with a website as well. If you're licensing your website rather than purchasing it, you may not be able to migrate it elsewhere should you change developers. If you choose to use a proprietary platform, you may find maintenance costs unreasonably high and your options very limited. 
So, how much does a website cost?
That's the million dollar question, right? If you're a typical small, local business looking for a ballpark for a custom website, you should expect a range of between $5k and $15k. This is a good range for a typical project with design, development, copywriting, initial onsite search engine optimization, and quality assurance. In our experience, it's also a good starting point for a website that will reliably produce leads, sales, and delighted customers.
It is possible for smaller websites with less content to dip below this range, but know that this usually means less of something such as fewer pages and less copywriting. It's also common for larger websites with more content to go quite a bit higher and often have added costs for additional integrations (e.g. HubSpot, SalesForce, or Quickbooks).
If you have a budget in mind already, you should feel comfortable sharing that with your agency. Good partners will provide a quote to meet that budget (if possible) and explain what you can expect from the resulting website. If you share that budget with multiple agencies, it will also help you compare proposals and build a sense of comfort around the value an agency delivers.
Don't let this number get in the way of your new website either. 75% of consumers say they make judgements on a company's credibility based on the company's web design. If you're worried about spending that money, consider how many customers you'll lose if it doesn't reflect positively on your brand. 
If financing is the deciding factor to whether you're able to bring your website to life (especially with COVID-19), be sure to mention that too. We're happy to help make your new website dreams a reality and having new leads come in before the final bill is due makes everyone's life easier.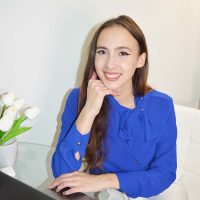 Anastasiya Gry. – Founder & Lead Designer at AG Global Designs 
Anastasiya Gry has over 6 years of design experience in a variety of fields. In the disciplines of new media and design, he graduated from the Southern Alberta Institute of Technology.
She acquired the finest methods to adopt into designing brand identities and websites that deliver results to clients during her years of experience.