10 Web Design Practices for 2022

The website is one of the key components to any business. It is its digital home, and to be welcoming and trustworthy it needs excellent design.
A well thought out and effective web design not only helps grow the business, but also builds awareness, confidence and recognition with your audience. The practices laid out on this post, if well executed, are a sure fire way to establish those and from then bring revenue to your business.  
1. Consistent Branding
Probably the most obvious one of these tips, but an important one nonetheless. Your brand is the foundation of your business identity. It what clients see and what you want them to remember you by. This means that at every costumer touchpoint, it needs to be cohesive – this includes the website.
The visual identity should remain seamlessly even.  Consistent logos, color schemes, fonts and iconography across every page are an absolute must (tip: remember to reflect this on your social media pages as well!). The brand voice and the key messaging are also important parts of your brand we want to be consistent. We do not want (potential) clients to move from one page to another and feel like they are not dealing with the same organism. A consistent brand is how you reflect this unity – visual branding and messaging alike.
2. Clear CTAs (Calls To Action)
You want your audience to do something? Tell them clearly what it is! The easiest way to get your clients to go, do or buy wat you want them to is by explicitly telling them so. Do not be ashamed to use call to actions, they exist to help you. The easiest way to making CTAs seem organic and appealing lies in making them clear. By clear we mean understandable, but we also mean blatantly visible.
Netflix, for example, does this brilliantly well. Their big red button is hard to miss and hard to forget. Whether it says "subscribe now" / "log in" or "sign-up", you always see it and you always know exactly what they expect you to do. But there is more to the CTA than the button. The surrounding text is what makes the button so appealing. The website entices users with their offer (unlimited movies and tv-shows), and this messaging sets the stage for the CTA. Additionally, possible objections are noted and promptly addressed (you can unsubscribe anytime). The CTA in itself is unmistakably bold and visible, and they even facilitate the users with instructions to the simple process (add your email and get started immediately).
This collection of elements not only guides the website users smoothly and clearly, it simultaneously shows them why they should. If you spur your users with powerful CTA, you will very easily see results.
3. Intuitive Navigation
If your website exists to give your users a solution to complex problems or access to lots of helpful content it should not be a treasure hunt. Overcomplicating your website creates more problems for your customers. Make your navigation buttons clear and obvious to allow the user experience to be intuitive. If you make your website easy for users to navigate your website you'll give them a deep, engaging experience, and a clear path to conversion.
There are a few ways to accomplish this, the first being a clear language. You might be tempted to replace common terms like "About", "Services" or "Contact" with more varied or unique options, but that risks confusing the users. If your language is not effective, it does not matter how pretty it sounds, so it is important to weigh these risks before making any such changes.
It also helps to tailor your navigation to your content. If your website has limited content, you might only need a few navigation links. Websites with more extensive and varied content will need more detailed navigation links. It is best to use descriptive mega-menus in websites with heavier content, as it gives users a clearer path to find the information they need.
3.1. Use breadcrumbs through your website
Breadcrumbs are a secondary navigation system that allows the user to track where they are on the website. They display where the user is and allow a retracing of steps to a previous page. Content-heavy websites and e-commerce shops especially benefit from this system, and they are most beneficial when they are visible, easily accessible, and clear.
4. Clean Design
As is the case with everything mentioned so far, the point of this practice is to make the experience on your website easily scannable and digestible. You do not want to overwhelm your customers with a color explosion or a broad range of fonts and sizes. Be sensitive to your viewers' cognitive load and make your website easy and enjoyable for them with clean design and meaningful (and only meaningful) content.
5. Storytelling
The most common way for humans to make sense of the world and communicate and connect with one another is through stories! Stories are what gain your attention. Stories are what you remember.
Your website specifically can always benefit from integrating brand storytelling and narrative techniques (and not just on the "About Us" page!). Use these techniques throughout your pages to break down barriers to engagement and understanding.
6. Visuals
A sure-fire way to lose your visitors' interest is by overloading them with endless lines of text. If you incorporate plenty of visual design elements (photos, videos, and illustrations) you can guarantee a more enjoyable experience for the people on your website. Tell the story in a way viewers can easily digest, and remember!
An example of this is product screenshots, which are especially impactful in the tech and software space. These help users understand what the product does and what sort of experience they can expect, without lengthy and technical descriptions.
7. Mobile First Design
Most people in today's day and age do everything through their phones. Designing a website for mobile use is crucial! Did you know that as of 2018 mobile usage accounts for 52.2% of all Internet traffic?!
If you understand how your target audience engages with you, you can better optimize your website to make their time more enjoyable, effective, and memorable. One key way to do so is by optimizing your content for their phones.
8. Search Engine Optimization (SEO)
Prioritizing SEO is vital. By doing this, you rank higher on search engine result pages and are more likely to get more visitors who are in need of your services/products.
Use targeted keywords throughout your website to do this. Search engines can track sites for relevant keywords searched by users. You'll get more organic traffic if your content speaks effectively to the content your users are after.
9. Monitor Site Speed
Everyone hates slow websites! Even search engines!!
It is important that you pay attention to how fast your website is because this doesn't just frustrate users. Search engines can check how quickly users leave your website due to speed, so if you want to rank higher, make sure your website is fast.
10. Heatmaps
Heatmaps present visually striking feedback on where users are spending time on your website. They track your users' mouse movements so you can identify the areas that receive the most attention. This helps you know what needs fixing, and what is working well – knowledge that can help you manage your web design in general.
Use these tips on your website and stand out!
Many businesses still view the web design aspect as an afterthought, unworthy of effort or investment. They could not be furthest from the truth. A poorly designed website shows unprofessionalism, and immediately portrays the business as an amateur – leaving clients to rethink their willingness to work with your business.  
Do you need further assistance? Book a FREE call with us and let's see how we can help you!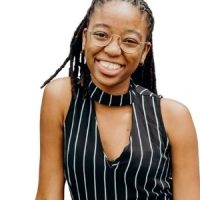 KÁTIA MATIQUITE  | CONTENT WRITER
Katt, our newest creative writer, is a twenty one year old poet best characterized by her creative way with words and unending goal to inspire. She is not only a published author; besides her writing endeavours, Katt is a YouTuber, podcaster, and – as part of her partnership with AG Global Design – is progressing in her career of social media marketing and content writing and creation